Caged
October 18, 2010
I wonder if you'll ever see
The real me behind the mask.
I want to tell you what happens inside....
But I can't....
If I were to let the real me show....
You wouldn't like what you saw.
A cowardly animal
Trapped inside this wounded body.
When provoked I come alive,
Ready to attack.... defend.... kill....
Until that time I am sedated.
I want to let this side of me show,
But I might hurt those around me.
If a hunter were to chance upon me,
I'd beg for him to shoot me;
End this double life I live.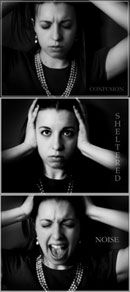 © Michelle B., Blairsville, GA