Sick With A Fatal Disease
October 14, 2010
This world is sick with a fatal disease,
its got a fever or 110 degrees.
We are its one and only hope to cope,
we are the ones who hold the antidote.
Every choice that we make decides if it with ache,
every word that we speak decides if it will get more bleak.
Every step we take is another story,
because everyone walks around like they own all the glory.
Are you thankful for the sky is still above?
or that you get to see the ones you love.
Everybody always says tomorrow is another day,
not if we keep treating people this way.
Every time I take a breath man can't breathe,
and every time I open up my eyes I can't see.
Every time I write a rhyme this world gets colder,
I can feel this boulder pushed up against my shoulder.
Now I'm going to ask a question, what if everyone was blind?
How would we hate and discriminate?
We couldn't.
We'd be forced to look inside.
Inside a persons mind, and inside a persons heart.
No more judging by the first glace,
everyone would be giving at least one chance.
Then maybe this world could finally advance.
Now im going to ask another question, what if we all couldn't speak?
Then how could we make people feel so weak?
We couldn't.
People could finally walk with their head held high,
not having to worry about tears they would have to dry.
People are always frantic about this world coming to an end,
not aware that we are the ones that are making it descend.
If for one day we could all stand up and fight,
maybe this world could be a little more bright.
Then this would wouldn't be sick with a fatal disease,
It would have a normal tempature at a normal dagree.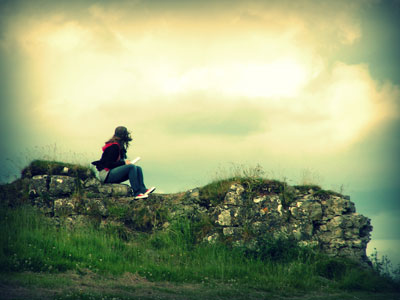 © Caroline C., Coronado, CA