Mental Stability
October 7, 2010
Crossed and uncrossed wires.
Broken thoughts,
Emotions gone awry.
My system's burning down
Nothing is functioning
It's like I'm a condemned building
Everyone locked out.
On lock down
Thick iron chains, electric fences, barbed wire
Every shred of stability on fire.
And inside I've broken down
A million and one times
And I just can't fight off the rabid dogs
That tear me apart inside
Ripping out everything
Leaving not even the
Raw bits and pieces of my past lives.
And slowly everything in me
Is crashing, burning
Falling apart.
There isn't anything to be
Done about the way
My system's failing.
Red flags up, alarms blaring
Red lights flaring
Self-destruction waiting.
How long before it blows
No one can possibly know
But it's close.
Bubbling to the surface
The stability of my mind
Is going, everyday
A little more.
Every memory is now
A little more
Worthless.
And the word crazy
Comes in and out of focus.
Just can't get myself together enough
To work through this.
I'm falling, pushed off, jumped
Maybe even flying.
Yet I'm hurdling towards
The ground, oh so very close to dying.
So tired of trying to fix the pieces.
Maybe it's time to sit back
Relax and enjoy the crisis.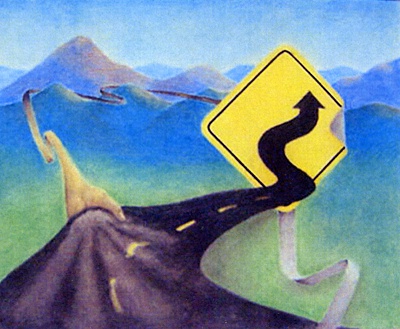 © Tyler W., Muleshoe, TX