When you look at her, you know she's a Dancer
September 10, 2010
With the grace of a dancer
So tiny & small
Pushing herself, trying not to fall

Turn, smiles, pointed toes & tears
leap with her throughout the years
Trying to keep perfect form,
She dances on through the storm

Putting on a bright smile for the stage
she learned at such an early age
She impresses the audience with her talent & poise
but she's really just trying to follow the music and block out the noise

Cake or candy she dares not touch
She knows one piece is far too much

To fit in her pretty little leotard & baby pink tights
no one knows how hard she fights
She sighs and tellls herself that this is her life, that this is right
Always striving for the perfect weight and height

She tries not to laugh when she hears someone say they wish they could be a ballerina like her,
because she sometimes thinks she'd give anything to dance away from this blur, a life so insecure

Always asked about her hopes and biggest dream,
she silently answers to be heard & not seen

She accepts it all, though she doesn't accept herself
& thinks this is just how her life will always be.
But she can't help praying at night,
"Please let me see the graceful girl everyone else seems to see; the mirrors seem to be hiding her from me"

So she starts her dance in the morning and continues late into the night;
She realizes she can only become stronger through this fight

She starts to build up the hope that her wishes, prayers, & dreams will come true
one day
Someday.
& in the mean time,
she'll continue dancing the nights away.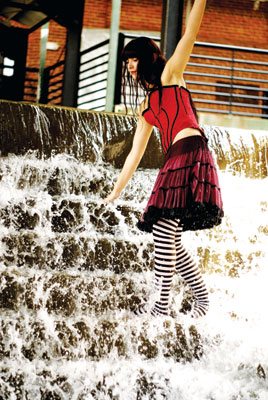 © Daniel H., Durham, NC