Beaver Reader Poem
August 8, 2010
You gotta creep into the heart of humanity, man
and suck out the madness and inject it into someone
who needs a little inspiration. Inject it into
the kindergartners who won't believe in Santa
because when the full moon strikes and the spine
curls out and lays flat and the fur sneaks through
the pores and suddenly your reflection
is a monster, a nightmare, a werewolf you don't
know how it got this bad and the thoughts
come howling back at you as you lay
down and pray to the holy of holies, but
the prayer goes nowhere. The answer
to your questions of pending grief,
of the anguish your brain sends out
in some chemical reaction when the most
anticipated event of the year falls flat,
that answer is the definition of a
buried treasure. The children
who seem so innocent and demure
you start to see warped, because even they
have their struggles. They pull their bodies
over the counter to get a bowl of fruit
but the pineapple falls to the floor anyways.
And you spit out ten random words that you think
sound funny and might help them laugh, but
then you realize that you are not you because
you left yourself somewhere along the
muddled path you took. But you know that
grief is taught today, and even you can't escape
the thoughts of death, even those who could escape it
because they couldn't even think it, well, you look at
the newspaper headline and
"Scientist successfully teach gorilla it will die someday"
and you don't know if the mania came back to you
but then you think maybe death's more like eternal rest
and you put down your cereal bowl and forget about
the newspaper, because what else can you do.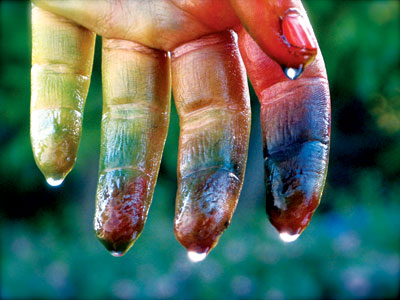 © Allison F., Menlo Park, CA