This is Enough
MAG
July 1, 2010
It's all blue up there
And streaked with wispy white clouds
That look like sea gulls from the porch.
And on the opposite side of the horizon line the lake reflects yellow flecks of sun
Sparkle
On the ripples of the slow waves
Slow like today.
On the creaking faded blue porch
A family soaks up the youth of the
summer day
Through open pores.
A vinyl umbrella blocks the sun that bounces white off our teeth
'Cause we're smiling.
Pan right
past the green nylon chairs
And the squat glass side table
And the virgin strawberry daiquiris
congesting the table.
That's my dad, and smiling in his arms like life is beautiful
That's me.
The Hawaiian flowers blossoming on his shirt
Continue to flow onto my starched
summer dress.
I'm smiling because we match
Because my front teeth are poking through my tender pink gums for the first time
And because Pa just made a funny face.
My brown hair is tied into a tight ponytail that whips wildly in the wind
And Dad's short black hair is gelled into place, fighting strong against
The pull of the breeze.
The breeze
It carries sand and salt and sweet scents
of seaweed
And my smile.
The camera clicks
Flashes
Snaps.
And this moment is forever preserved on flimsy photographs
And carried off in
The summer breeze.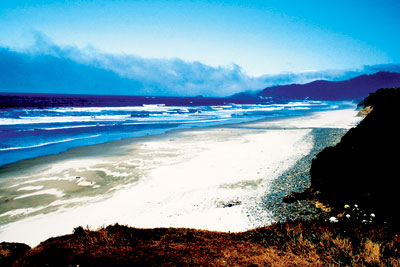 © Kristin R., Los Altos, CA