Eternal Love
May 22, 2010
When we go back to the earth, love.
Our laugh will stay,
painted in the crevices of each sunrise,
forever greeting each new day.
Our soft touches will rise freely,
shaping the clouds,
imprinting the skies.
Our heartbeats pounding together
will be heard in every downpour,
two souls coming together,
with each clash of thunder.
And the sweet look of adoration
in your eyes, after it's all over
will be found
in all the little puddles
along the sidewalk.

The little kisses you left
on my
temples,
cheeks,
eyelids,
on my nose,
my forehead
and my lips,
will burst out in millions
of spring wildflowers.
In
violet,
red,
gold,
pink,
orange,
and baby blue.
Swaying with the mountain breeze,
popping with happiness.

You'll be able to hear
all the stories and lullabies
we've shared
in the crests of ocean waves.
The gentle crashing on the shore
will sooth angels to sleep.

For all the precious memories,
and many more to come;
our dances in the city streets
the late night baths, the jokes and laughs
piggy back rides in times square,
and picnics in the park;
the way you smile when you're being silly,
the summer nights spent smothered in love..
For each memory,
there will be a star in the sky
that'll shine a little bit brighter
than all the others.

One day, my love,
we will go back to the earth.
But our intertwined souls
and a piece of our heart
will remain eternally,
tainting and teasing all the love left in the world,
daring it to be as great as ours.
But also, giving and growing.
Our love is so strong;
it is swirling in the wind the people breath,
and blowing along the dirt, seeping in through their feet,
growing in their hearts like a jungle weed
and shouting out their lungs till they can't breath.

The world will be a new born land
in our love's lulling arms,
like heaven it's self
reunited with the earth
and we'll be looking down
smilin'.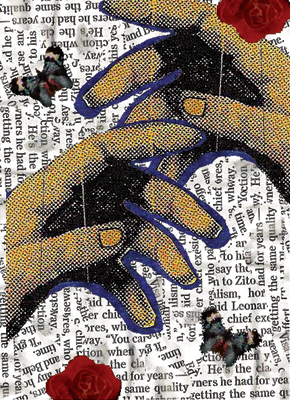 © Christine S., Arlington, VA