In Remembrance
March 12, 2010
The air is heavy with sleepy eyes and math-addled minds
I can taste the boredom.
My tongue is thick with it.
Dull and chalky, it tastes like the numbers I struggle to understand.

You would hate it here.
You would hate the dirty white walls, the desks,
Dark with years of students' scribblings.
This place is colorless, lifeless.

I wish I were on the other side of those white walls.
Rainy freedom is so close I could kiss it.
There is life out there.
I think people put windows in math classrooms to mock people like me with
Rain that drums on roofs and already-puddled concrete.
I imagine I can see the splash of rain striking those puddles,
Water droplets fly haphazardly,
shatter like tiny diamonds.

You belong outside, with the rain
Those droplets are more precious to me as water than they could ever be as diamond
Those droplets, cool on my face, can smooth the tension of any math class
Those droplets are as close to the meaning of life as I will ever get.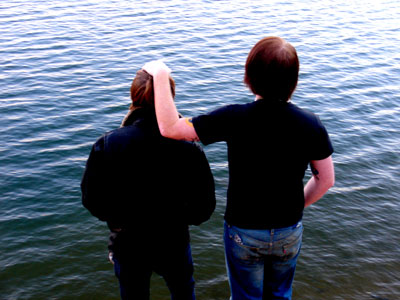 © Michelle B., Blairsville, GA