Homeless
March 12, 2010
And the sky, it cried and sighed wind
The wind blew bitterly, the essence of cigarets
Cigarets falling, like forgotten matches onto cracking concrete
Concrete, rivers of gasoline flowing through it, ribbons of faith
Faith in the form of black winged birds

They flew overhead like fleeting dreams
Unfurling like flowers in spring
Cawing over at night, weighed down by ice
Dead in the daylight
Grays in the sunlight
And lies lying like lily petals
On blood stained side walks.

he was lying there
hello
a pile of rags, a bag of trash
rising and falling to his labored breathing
later, he would walk though the dark alley
get high behind the collection of trash cans
scrape together tarnished quarters, buy some beer
and taste despair
against the roof of his mouth
you there
a useless mess
you live without flair
but to you, it's life
can i talk to you now, as you sleep?
i wish you were dreaming
i wish i could heal your broken soul with unbroken waves of rhythm


like your slow breathing


the garbage man who walks by every hour, dragging plastic black bags by red handles


the bruised women opening the drugstore


the sun, reborn above

I would like to breathe my soul through your ears
And watch it light your bloodshot eyes
Oh, your cracked skin
With the blood in between
And your left cheek, bruised from long ago
And your left behind people.

We are all drowning
Flailing under torrential rains
We cringe with the marks of age
I will never wave you goodbye
While I am torn
Down the street in a yellow taxi cab
Watching you fade on ravaged street corners
till you are just


a smudge of gray, smaller than my fingernail


a stray piece of hair


a yawn's end


a The End



the darkened bottom of a tear


torn candy wrappers


dried up cans of paint

The sigh i leave behind as the wind carries away the rotten leaves.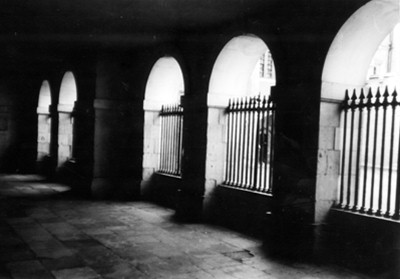 © Hadley B., Marblehead, MA