The Real Romance
March 2, 2010
The Real Romance

Do you see me?
I know you see me:
I'm here, sitting next to you in class.
We talk, laugh, compare answers,
Ask, "How are you?" "Did you do the homework?" "Heard that new song?"
The teacher projects a complicated problem on the board, dumbfounding us,
You turn, look at me, raise your eyebrows, we both laugh.
But do you see me the way I want you to?

Do you notice me?
I know you know who I am:
You turn to me, ask me a question.
I say something under my breath, reacting to the craziness of the class,
You laugh, say "Good one."
I glow inside.
Your face looks like this when you talk to me: ?
But do you notice me the way I want you to?

Do you like me?
I know we get along:
We work well together, answer questions correctly.
The teacher pairs us up, says "You two, work together."
We pass in the hall and you say "Hey. How's it going?"
I say, "Good. How's it going with you?"
You answer, smiling.
But do you like me the way I want you to?

Do you think about me?
I know you think about me:
You come into school saying: "Did you watch the Olympics last night? Wasn't it funny when…; it reminded me of…"
We're in class, answering the question and you say:
"Oh yeah, I wanted to ask you something. Did you hear about the summer plan?"
You wanted to ask me something, something you though about.
But do you think about me the way I want you to?

In my head, things are different from reality.
You are the prince: starched shirt, blue bowtie, shined shoes.
I am the princess: swishing skirt, beaded bodice, corkscrew curls.
You come to me, ask for my hand,
I give it to you, gently, delicately.
We dance in the moonlight; an orchestra plays.
Flowers blooming around us, everything's perfect.
But, it's a dream.
Where's my real romance?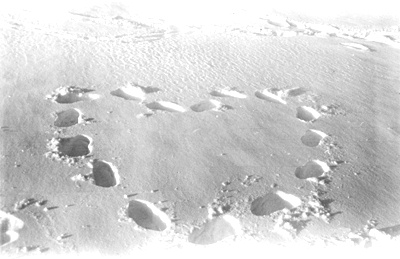 © Kim B., Marblehead, MA