Body Language
February 19, 2010
Unspoken thoughts of love that were never told
Yet it confuses my heart how you want my body but not my soul
"I love you Monica." Your alluring voice sings into my ears
Making my brain cloud over from the awe and the fear
I can feel my pulse racing against your veins when I'm in your arms
My eyes start to burn from the flood my lids lock in so tightly
The warm pain of my core passes through my lips full of unwanted oxygen
He holds me tighter, while my ribs beg him to let go
His bronzed fingers lock around mine
His forehead lifts my hanging face by my chin
Lips caressing against my collar bone, soft as always
His eyes pleaded to kiss me saying, "For the last time,"
I laid my lips upon his
Telling him how the hurt I've felt has been too harsh for me to forget...with my lips
Showing him how the ache has never died to have him back…with my hands
As they traveled over his muscled body I felt the disappointment in myself
Was I really going to give him the chance to be with me, again?
Shaking my head from having any second thoughts at all, I hugged him tighter
My breathing was picking up the pace, keeping up with my "Desperate to Have Him Back" level, as each second whispered by
"Over," I thought to myself, "This is over, it's just kissing. No more. Stop kissing him, Monica. He hurt you."
His hands sinked into my hair
I pressed the palms of my hands to his chest, feeling the beautiful thud his heartbeat, and pushed him away
I could hear him begging for my affection, to give him expectance...forgiveness
Chris's fingertips slowly brushed around my dimples as the tresses of hair he released danced back into place
Tears started to trickle down my cheeks without me giving them permission
I looked into his saddened golden eyes that flickered with embers of green
His lips parted open in unsure breaths
He was going to tell me that he loved me, again
I rose from the smooth, tall green grass that hugged around my ankles and sauntered quickly through the brushes
Telling him no.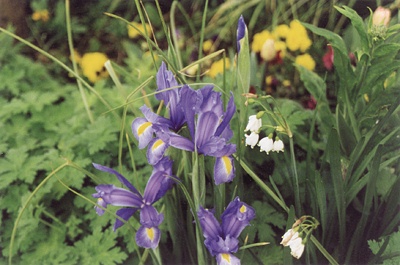 © Kelly G., Norwell, MA