The Old Sailor's Rant
February 5, 2010
Cast me no, I beg thee, into that abominable ocean,
that vile potion that carries unlimited store!

For that salty w***e has no business
cradling my form! And if it fancies a
chance of making romance with me, it can consider those fantasies torn!

My life had been one of profane, blackest sin I grant,
but it is still not reason enough to let me
linger in eternal company of Her cold grin.

Oh, you wretched adulterers that so easily harvest maidenheads ripe!
Have you not a third voice tonight?

Have you not a Human quality?

What art thou? Art thou
Merry demons from the Green Queens court?
Ay, that I would live to see such a day and die!

Woe! Woe unto thee, puppets! Thous art no more
than such--wavering and dancing at the wiggle of the
Harlot's finger!

Pity unto you who hath not a voice of choice!

Ay, while I still chance a breath from these
wheezy lungs I choose to die on my own!

I will no enter eternity by thine hand, oh colony
of Spiders! They purple fangs will not taste--nor mar--my flesh
neither today or on the 'morrow!

Therefore, on the plank of warped wood do I commit myself
to this shifting soil below--
and diligently hope for a wind to blow pleasant breath!

Farewell, horned angels! Bid thee do I
damnation agonizing! Depart from you shall I, and meet your master!

Heaven or Hell I come swiftly! Accept me in thine two-faced embrace!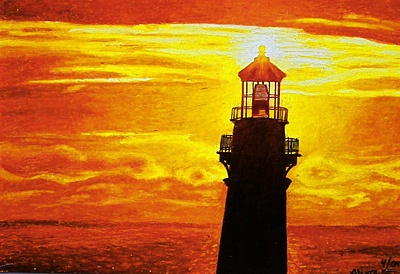 © Alyssa G., Charlotte, NC