Love Journey
January 28, 2010
Brown hair. Bright eyes.
He always holds her when she cries.
He is the one, you know it at your core.
After a bunch of jerks that came before.
No one sees the potential for a ring
Coming after your little summer fling.
But when his arms of love surround you,
You are sure that his heart is true.
.
But with senior pressures coming so near,
Mom wants all distraction to stay clear.
About love she has no clue,
To stay with him is what you must do.
But with her eerie, watching eyes,
She leaves no room for any white lies.

Day and night, he's in your head.
You only wish he were here instead.
Without him, life's just not the same
What was fun is now so mundane.

One night you wake, with lights so low
To hear small rocks hitting your window.
He finally came to see his girl,
Your mind and heart are in a whirl.
A smile spreads across your face,
Your heart is beating like it's a race.

He takes your hand, you hold on tight.
As you walk side by side, through the night.
A shooting star above your head,
Lets you know this will never end.
With your hopeful soul, and spirits high
You look up to the starlit sky.
And pray to God that this will be
Your one and only love journey.

Hand in hand, with rain pouring down,
They quietly run through a moonlit town.
He leans in- a kiss so sweet,
Her heart promises she will not retreat.
The fear of hurt has long since passed,
Replaced, instead, with a love that will last.
She looks for the answers in the depth of his eyes
And now she knows- this is no compromise.

With flowers in hand, the church bells ring.
This is your final offering.
Filled with peace and hope for tomorrow,
You no longer feel any sorrow.
Overwhelmed with a love for him,
That began one day in tenth grade gym.
You say your vows, and you are his,
Being his wife, having his kids,
This is how it will always be,
For always and eternity.

She grabbed his hand and squeezed it tight
They had come and gone throughout the night
Contractions of a vicious kind
Her nails dug in, he didn't mind
Then she came, with a voice so strong
He already loved her, it didn't take long
With tear stained eyes he held her close,
These are the moments to cherish the most.

Now a precious family of three,
Any more perfect it couldn't be.
Until they became a family of four,
And decided again to have one more.
There love was the kind that carried them through,
To cling to each other was all they knew how to do.

As time passed by, they were always together,
They embraced each new day, no matter the weather,
The children grew up, with families of their own,
The house was soon quiet, a silence unknown
But you never worried, he stayed by your side,
Through the ups and downs of a roller coaster ride.
He was the man that had held you so strong
Even when the journey got long.

The days of youth had long since passed,
Replaced instead by a love that would last.
Fifty years had led you here,
To a life spent with a man so dear.
Now as you lay in a hospital room,
He feeds you yogurt with a spoon.
He never left his beautiful wife,
He would love her for all of his life.
You see his love had never faded,
You had proved them wrong, you made it.

Then he grabs your hand - a squeeze so slight,
And you fade away into the night.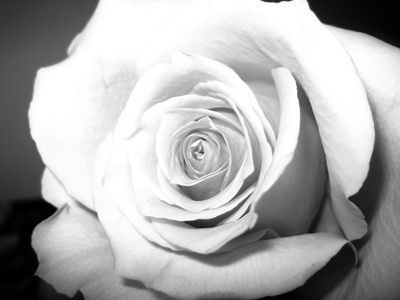 © Kimberly C., Houston, TX