Finger Dance
January 3, 2010
My fingers crane swan-
like over white lakes,
black lakes,
Swimming in blue, thrilling flight
drinking in the clouds I cannot see,
Flying – higher, lower,
dancing – twirling, trilling,
singing, sighing, dripping blue.

My mind is in a darkness world
(the sluggish joy of vivid colors
Dancing in the sparks of lightning
after you stare at the sun),
my fingers in the light,

When I suddenly feel the sensation
of falling, plummeting –
like walking up the stairs in the Dark
and for one terrifying moment
your foot falls through thin air
and your mind whirls and screams
until you find the ground –

I look down at my fingers -
my swans carved of willow and stone –
and realize they have been doing
all the work.
Confusion – where am I?
What are my fingers doing?

While I sit there, lost, dazed,
my fingers move without me –
twirling, flying.
It's unnerving. Frightening.
They don't need me.

Any second they could fly right off my hand
and keep flying on without me –
and I couldn't do anything about it.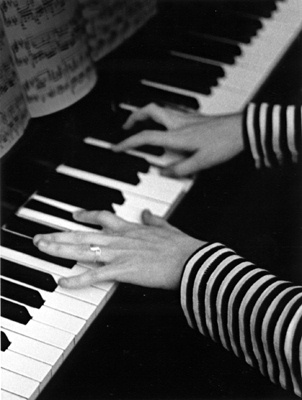 © Paulina A., Marblehead, MA