Love broke the world and I'm sorry for my share of the blame
January 10, 2010
Dirty pubs and underground
basements, seedy characters looking round/
And buying drinks way underage from barstaff
awake all night, sleep all day.
Low ceilings drip with condensation
from the sweat of too many bodies,
no patience, pushing on the floor,
excuses for (dirty) dancing.
The one I fell for –
the good looking drummer who turned my world
upside down, never realised, never turned around
when my eyes looked at him.
They let us in,
an hour early to connect our wires
in loops and sparks to threaten fires
like we were taught how not to,
when we still cared about school.
Back alleys where daylight never reached
the centre, we'd eat chips and pizza.
Two litre bottles of coke for a pound
and an energy drink called Superrstaar
whose cans littered the ground.
Broken hearts lay in the gutter
with fags and glass. Love letters.
Turned into lyrics
of your favourite song
(But you're too drunk to know if we played it right
or wrong).
One day I thought people would listen
and the world
could be changed with love and hope
and intuition to know what made you
lift your feet. Music to bring dancing
back in from the street.
When did we lose the dream. The feeling.
Was it when I fell for the drummer
for whom I drank every evening,
until I felt no more
and I didn't care
Love broke the world and I am sorry for my share.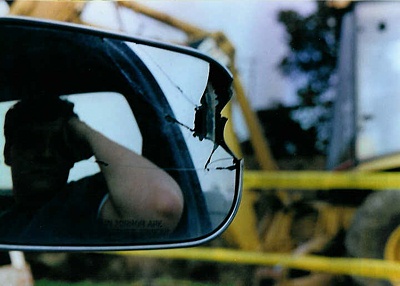 © Matt M., Ponca City, OK