Real Pain
December 25, 2009
Five minutes to go,
I'm working hard and sweating harder.
I've gotta make this shot,
I go for the ball,
I feel someone run into me.
I hear a snap and I fall to the ground,
A sharp pain shots through my leg.
I yell for the coach,
He helps me off to the side.
Then continues with practice,
I'm in so much pain I can't move.
Its time to go,
He asks if I'm ok to drive,
I tell him yes.
So he leaves me to battle the long flight of stairs.
With each step a sharp pain says hello.
I get to my car and think I'll be fine.
As I drive each bump and turn change my mind.
I call my dad and tell him I'll need help.
I get home take one step out of the car and pain overwhelms me.
I see my dad and let out the tears I've been trying so hard to keep in.
I'll have to go to the doctor.
What will he say?
As I'm leaving my knee snaps,
And it feels as though I can't go on.
The doctor says its a sprain,
But I know its worse.
I go to a specialist and he confirms what I thought.
I go in for surgery.
After they say it was worst than they thought.
Pain stricken,
With a torn ACL,
And a terrified feeling of not returning to sports,
I lie in bed.
......
Its been 6 months,
when will the pain go away?
When will I be better?
Now I know the true meaning pain.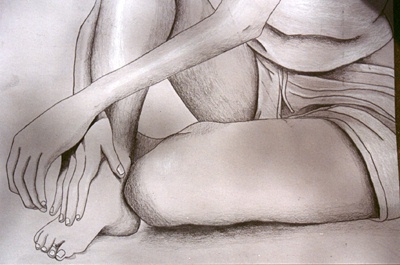 © Omar M., Phildelphia, PA