Explore
MAG
December 2, 2009
Don't ask me.

I'm not the tour guide for some
Wild Expedition
where we'll spend forty days
eating tree bark and bird berries,
and sleeping under banks of
mosquito-infested mud,
running from creatures with spears shouting
I WANNA EAT YOU
and beasts with five-hundred eyes and crab claws
and appetites

I am not the hostess for you to cling to at a dance,
where the cacophony of swirling gowns
and unintelligible, irreverent twitter
will plunge us into insanity;
where women become monsters with
razor-sharp tongues
and amorphous globs of makeup
and suffocating uproars of stagnant perfume;
where men stampede,
their words effervescent with wine,
a nauseating decadence

These are words, for heaven's sake.
They are still, waiting for you,
and I promise they will not bite,
even if they are a language you swear you've never seen,
and they seem to be chanting for your flesh
or worse, your grade.
Yes, trip, grope, tangle in a spider web of sounds.

I will not hold your hand anymore.

Explore.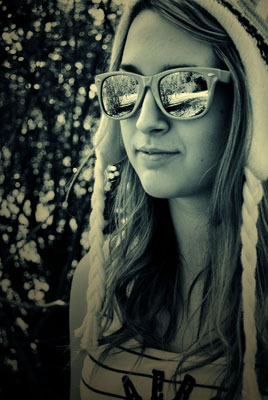 © Gabrielle A., Pensacola, FL