Ever So Flawless, Ever So Perfect
November 13, 2009
Here perfection walks before us, a girl with absolutely no flaw,
Gracefully brainwashing everyone she passes, and leaving them to stare in awe.
As we think to ourselves, "How flawless can this piece of wonderful art be?"
She stops ever so sleekly and flashes a smile of hilarity.
Emerald green nail polish painted delicately across each nail,
Her shiny copper hair tied into a thick yet flawless ponytail.
Sparkling gold eye shadow neatly spread on each lid,
Her height of 5 foot 8, which was nothing to kid.
Gleaming copper shine reflecting from her hair,
Careful steps she took, passing burdens with no care.
Satisfaction written across her thin but smooth lips,
Positive attitudes pulling desperately at her healthy hips.
Needlessness sparking constantly in her jade-colored eyes,
Perfection for her was obviously no surprise.
I wish I could say the same for me,
But I guess we all but her got a slight peak on the cheek from the ugly fairy.
Ever so flawless, ever so perfect.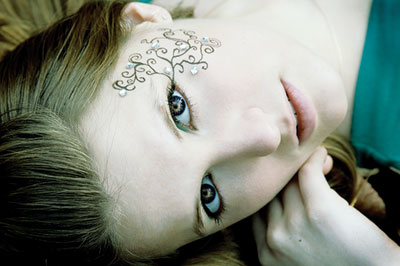 © Michelle B., Blairsville, GA