The EverLasting Dream
November 6, 2009
Days will pass, and my heart will bleed.
For the lonely souls who silently weep.
Darkness presses against my lips, as softly as loves first kiss.
Distrusted and enraged, like tigers caged.
I morn with my crystal tears, for the ones that I hold dear.
Will never understand my thoughts, for everything that we think so near is not.
So when the everlasting dream is close, do not abandon all of hope.
For life is always not as it seems, through tearing eyes in which you see.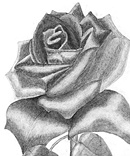 © Nghi L., Phoenix, AZ