Already Dead
September 13, 2009
Trying to stay afloat, because I'm drowing in my very own tears.
Barely making it up the stairs, falling with frustration.
Collapsing onto my floor crippled with pain & missunderstanding.
My head pounding, chocking on a stream of salt water, beyong breaking down.
Rolling over yelling to God so silently: "I hate you, how could you do this, I do what I'm suppose to but I get this."
So close to worshiping Satan because God refuses to give me anything I deserve.
Struggling to get on my feet and failing.
Crawling to the bathroom using the sink to drag me from the cold, hard ground.
Thinking this isn't real, knowing this is far worse than a nightmare.
This is hell............
And if this is hell........then that means I'm already dead.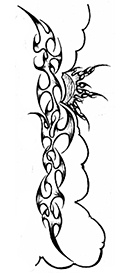 © Alex E., Dededo, Gu