Confession
December 25, 2021
I've been crying today
my words clogged, pulling me into the sink
a black sucking ooze of despair,
refusing to look outside my blankets and see the sky,
I only wanted to pull them over my head and hide myself.
I couldn't tell you why I cried
but I cried all morning
all of Christmas morning
I've been riding my bike today
down a long stretch of silent pavement.
when everyone was closed inside their curtains
angel voices hummed of day
but I cried
for you
and time
and all the chances we had
and this chance we missed
that will never slip from my fingers again.
don't tell me I've forgotten what it was all about
I have not forgotten
failures and confrontations
there are many.
if I seem evasive and forgetful
if I refuse to say what's on my mind
I'm not wrong—
it's only how I hold my spirit up
after living in the dirty sink of mind
and fighting against myself
for so so long.
I've been bike riding more than ever
I've been flowing like a lost river
lately
always escaping, never talking
avoiding you.
I write bold flowers in my poems
but I'm afraid to live it out.
life has become a song that I'm never done singing
always another verse, another stanza
trying to resolve itself into consonance
and the song that falters
and eventually fades out
is one I must sing alone.
if I seem confusing
it's just that I've been choosing
for so so long
sad
weary
oh, I pray you'll understand.
lately
I run with all my might into a glass sky of illusions
crack my head open in all innocence
and it hurts, it hurts.
and when I wait up for the sky
apparitions come
dark thoughts filter through my mind
and there's no end of them
so I close myself off and count the raindrops
focusing my mind on small things far away
it's hard to clean up my shattered illusions
they cut my hands
I bleed.
well, I keep moving on
the distance never lies.
if you should ask me what's the matter
I'll tell you life is getting better
it is.
through life and death,
the inner angel sweetly sings to me of day
so I keep moving on
the angels will come
seeing me with my packs and my sky faith.
I keep moving on
past the people I love
I keep moving on
past everyone who influences me.
I keep moving on
improving as I go along
no matter what I'm feeling
my sky is healing
slow, so slow.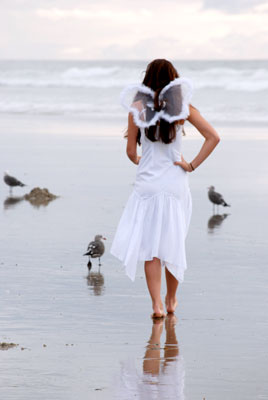 © Junia Z., San Diego, CA