THE FIRST POEM
July 3, 2019
The first poem I wrote
was not in that summer
when we met for the first time
on that bright sunny day,
When I shared all my shine with you
and soaked all your dullness within.
The first poem I wrote
was not when we were together
When we talked with our eyes and hearts,
When silence was our favourite word.
I didn't write because all I wanted was you,
Giving all I had to you.
I wanted to feel the vulnerability of love
in the arms where I felt the safest.
I just wanted us, only us.
The first poem I wrote was not
on that rainy day when you hit me,
Gifting me bruises which will stay,
Stay forever in the form of vicious memories,
Echoing your presence.
Maybe at that time, I didn't write
because I wanted to feel that malady,
The pain which you gifted me
as a reward for all my love.
I didn't want to part with it
changing it into mere words,
Words which will later mock me.
I was always happy with you,
Your touch, your love, your gifts,
Your bruises, even your brutality.
The first poem I wrote
was not even on that cold
the melancholy night when you left me,
Taking me away from me with you.
Leaving just a few fragments for
me to recollect,
To shatter once again.
The first poem I wrote
was not even in autumn
when I felt like that old tree,
Shedding its leaves slowly and slowly,
Surrendering all of it to the sand beneath
from which it's rooted grow.
Hoping that one day someone will come again,
Water the tree, make it green.
I forgot that my roots were you
and you had already left a long time back.
But still, I continued hoping,
Believing in my love for you.
The first poem I wrote was not even
in that spring when I was all alone.
When somebody came
bringing me back for me,
Bringing my smile back for me,
Bringing that heart to join my fragments,
Bringing my life back for me.
But what did I do?
I played with his heart,
To fill mine with love again.
I used him, I used him
to become me again.
And then, left him,
Just like you left,
Leaving with a few fragments.
I left him hoping that one day
you will come back,
Continued in comments...8w

coffee_and_carcasses
come back bringing my pieces back,
come back to love me.
I didn't write a poem till now.
Today, I am writing my first poem because I can't wait anymore.
I am writing for you to read this,
to believe that I am the one for you,
the one who can give you all the love and light in this world.
It's been forty years of hoping, of yearning, of waiting to get my pieces back.
And I am still here where you left me.
Waiting for you to come back and love me.
My hope is fading with the passing years.
But still I am living with my fragments, waiting for you to come back.
Do you love me? Did you ever?
Will you come back to me, for me?
WILL YOU? WILL YOU EVER?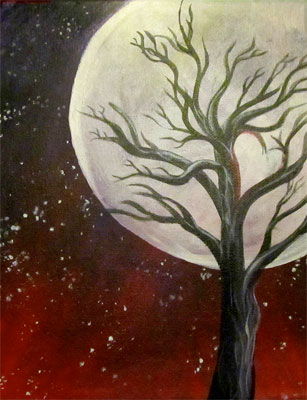 © Rebecca F., Madison, SD