Silhouette
May 13, 2019
Opening my eyes at dawn gives me such a fright,
As the palest form of blue enters my curtains in the night.
Ever since I was a child,
I always felt a somber being within me, deadly and wild.
But YOU.
You told me to leave her alone.
To ignore her wretched cries that emerged in a raw, bloody red tone.
She was born on the day I died,
That winter morning in the hospital room where you struggled and cried.
She has always been lingering there and here,
But you ignorantly instilled in her a paralyzing fear.
You said she was sinister, ungodly, and too weak to put up a fight.
But why?
Why can't you understand that even the DARKEST shadows need some form of light?
The more my bony thorns of limbs grow,
The clearer it becomes.
That she IS my savior,
and not my demonic foe.
The more my skin wilts away and starts to fall,
It emerges, glaringly obvious that she was an eminence, courageous and tall.
You only pushed her back into worm-infested soil when she sprouted and grew,
Because
You
Were
HORRIFIED
by what she could do.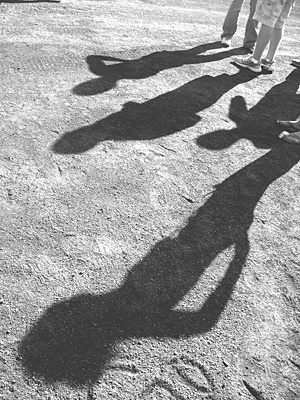 © Trella R., Mountain Lakes, NJ