It Reads Like Poetry
MAG
September 28, 2018
my name is too soft. it reads like
poetry, like blue, cursive words
leaking from shaky fountain pens.
like rain, lulling the sky to sleep.
my name tastes like vanilla ice
cream on my lips – like milk and
sugar and nothing else.

I want my name to be strong,
like concrete. steadfast. I want
my name to feel like pages torn out
from a dictionary and lace-up boots
stained with life. I want my name
to smell like leather jackets and
hairspray – high heels shuffling on
wooden floorboards and the feeling
of rapture slipped in between the
shadows of early morning, but –

(someone from summer camp said
that my soul is the color pink, and)

my name is soft, like cotton. like
the humming wind. like wildflowers
dotting the landscape, stretching the
sky from north to south. my name is
too much like me, (a girl with nothing
but words clinging onto her fingers,
her heart intertwined with everything).
so I am not strong like thunder,
but strong like speaking.

my name is too soft. it reads like lines
of literature, squeezed in between the
sinews of life. like the steady clicking
of bicycle gears before shifting pedals.
I want my name to split the sky into
two like lightning, but my name is like
sunshine. like smiling. like the poetry
I write in my palms to feel strong.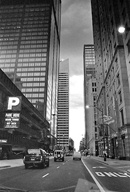 © Alexandra K., Chicago, IL