If you happen to be in Ikolaba
September 18, 2018
If you happen to be in Ikolaba...

An obvious dead end will reveal itself from the start
The only way to keep going is right
In the heat of golden sunshine
Until you reach the creamish bungalow hidden under a girthy fruit tree.
Crushed pink petals ripped from their green stems
Now bounce around
With the toes of barefoot children
That run and play
And wait on the bruised mangoes to fall.
Fat tender sweet skin
Beaten red and orange
These stubborn plump things.
An impatient child's third strike and a green leaf lands
Further down the street
On the rusted roof of the corner store where
A woman with a bright gap toothed smile will always
Give you one more sweet than your money can buy.
Those old enough are across the street
Gentlemen and ladies alike
On their way to the night club up the hill.
A handful of skimpy dresses and jean shorts
They disappear into the distant building where the
Booming bass comes from.
Tonight they're the lucky ones
But so is anyone near or far
Who can make out the lyrics falling on the heavy sonorous beats
Like every night
These lyrics are different.

Everybody Scatta Scatta Everybody Scatta Scatta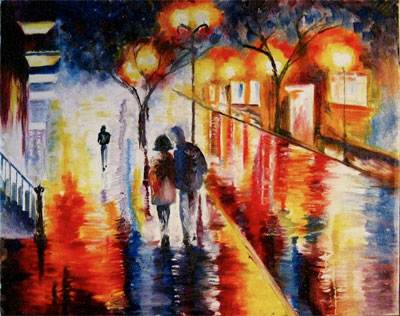 © Joanna J., South Setauket, NY