Learning To Swim
August 21, 2018
Some parents, in an attempt to teach one how to swim, will throw their child into the deep end of a pool, giving them no other choice but to figure out how to swim. The logic behind it is learning to swim solely by avoiding drowning, much like a fight or flight scenario. It sounds unnecessarily cruel, throwing a child into the water so they have no other option but to swim, but still, I can see it is nothing more than what we do on a day-to-day basis. Life is just like that, really, you're thrown right into the deep end and you either sink or swim. You cannot take lessons on life or how to coexist, you just have to figure that s*** out for yourself. Swimming is like that, too; there will be times when you drown, but more often than not, I've come to learn that you can find yourself swimming much more than you can be found sinking.
I was drowning when I met you; I thought you were just another cinder block to weigh me down, one more force going against me in my endless pursuit trying to stay above water. After barely surviving tidal waves of trauma, heartbreak, loss, and depression, I was ready to submit myself to the void and let myself sink. Hardly hanging on, you threw yourself out to me. I was so used to holding my breath that when you gave me air I refused out of fear, only associating it with bad memories and broken promises. To my surprise and serving to your expectations, time went on and soon the fear washed away. I let you give me air and with that, I let myself breathe again. Once I took that first breath the world stopped for a second, giving me a minute of clarity. At that moment, I had finally stopped struggling for long enough to notice that I was not drowning, but rather, I had been treading water the whole time.
I used to resent the universe for throwing me into the deep end. I was angry I had been chosen as an example for the world; I didn't want to be a model on how to survive, because I was hardly surviving by myself. After all this time has gone by, I see I was an example to no one but myself. Everyone else is dealing with their own tidal waves of anguish, this was a lesson for myself and myself only. I have not only learned how to swim, but I've learned to forgive my fear of the water. For that, I could never stay mad at the universe. I have learned how to survive, how to make do when I have nothing, and I needed that more than I needed anything else; I see that now.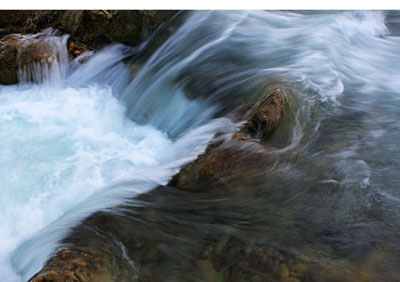 © Ellyn R., Elgin, TX