Sense
July 20, 2018
Trying to knock some sense into the senselessness of my thoughts
Thoughts centred around you
…and me
You are the radius to my circle
My entire being rotates around you.
my existence although doesn't depend on you
it might as well be so
because I have breathed in your air
felt you beside me
had you around me
you have intoxicated my heart
the very centre of who I am.
I try to woo you with my words
My metaphors and similes don't move you
And I want to move your focus from everything else that you are focused on to
…me
As insignificant as I am
I need you to need me too
Because what use is all this if it isn't unrequited
So?
Will you come to me?
Embrace me as I have dreamt that you will
I need to know
Will you be mine?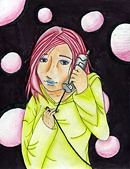 © Emily M., Milford, CT