Final Breath(s)
February 2, 2018
I.
A lusty pirate maid I've been, and by chance I came to die.
My shipmates shall not weep for me, or utter a sippling sigh;
No, my jolly men are shouting loud and send me off to lie.
To the bottom of the sea, beneath the dancing, roaring waves;
A better vigil none could keep to protect my sleep from knaves.
Tonight I rest with fellow seamen in the ocean's pearly graves.
II.
A huntress I have been, a goddess of the wood.
I killed what I should kill, and spared all that I would.
And now as I lay dying, another's prey at last,
I do not wish another life, or grieve my actions past.
III.
A Selk I am, and would have been, with many years in store,
A lady of the night, a darling daughter of the sea,
If cursed men had not come and claimed their right to me.
Selk am I, indeed, if only for a moment more...
Selk in earthly chains am I, until, at last, I'm free.
IV.
Off march I to a hangman's noose,
Sentenced to hang for a terrible crime.
But it was a thing that I did choose,
And a thing I bought in a pleasant time.
I betrayed my tyrannical kingship
For the sake of my withering nation.
I sold out his lordship for pittance
And worse: rose above me station.
V.
Let all who fear the name of Siren
And curse the blood of mine,
Know that for a human man
I stand now to die.
VI.
Sing me off to sleep; I beg to the breeze above.
Let the wandering willow-trees whisper of their love
For me, a Whisp, and my race, who caring told them oft
Of love for the bonney willow-maids and stars that hung aloft.
VII.
Puddles of neon over a broken head.
Brutality of future dread.
Apocalyptic blood reflecting blue light.
I died, an ancient child, blinded by sight.
VIII.
Under me all will die.
A thousand stories have burned,
Wars started, hope spurned.
Their eyes search for me
Hearts aching to be free.
Under me all will die,
All looking upwards- to the sky.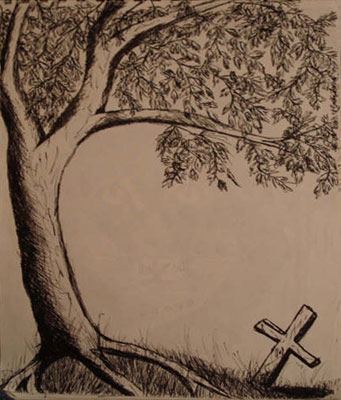 © Courtney K., Bethel Park, PA