Cocaine
April 21, 2017
My love won't remain enclosed on an envelope.
It can't compare so why can't we elope?
Get across my mind that you don't -
And you won't,
Love me back. 
Why don't you care, you just lack.
I used morphine to cure pain,
Don't, don't look at me with your eyes laced with vain,
There's no shame,
In this game.
So come honey, 
This ain't funny.
I want love,
But there's no more sky above,
Without you here
Oh, come on my dear,
Help me to misunderstand.
Without you my life seems so bland,
Won't you help me run away?
I still want you to stay 
I don't wanna behave,
So prove that you can save,
And be brave.
'Cause it's only you that I crave.
I can be your slave,
If you gave,
Enough for me to chisel and pave,
Help me get out of this cave.
'Cause I'm feeling death's tidal wave,
I'm done with what I forgave.
Here's for me to dig out your grave,
It's about that time of day when I misbehave.
And I don't want to hear you complain,
Because you're still in the back of my brain.
All you've done is give my heart a strain,
So I'll remain, because I still need you... cocaine.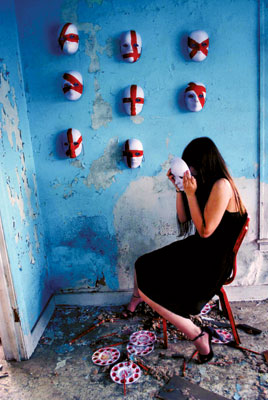 © Narongsukchai T., Sachse, TX