The Final Match
March 4, 2016
There was a boy who stowed
A box of lollipops beneath his bed.
Each evening he would take one out
And gently scratch its head.
And then the pop, so gleeful,
Would reveal its great surprise
A flower bloomed around its head
And danced before his eyes.
Each evening he would watch with awe
'Till the flower's life ran low,
Then he'd save his fingers from the flower's bite
By giving a gentle blow.
That was, until, the evening came
When there was but one pop left,
And the boy knew something must be done
So the flower could be kept.
So as he struck the final match's head
And watched his final flame die,
He grappled for some last possible way
That he might not say goodbye.
So he placed the match upon his tongue
And sucked the final flame dry.
The boy no longer keeps
A box of matches beneath his bed.
His blood is fire, his words are smoke, his hair is glowing red.
Know this, O reader, next time you think
You have to say goodbye,
Take a leap of faith before you let
Your precious and final flame die.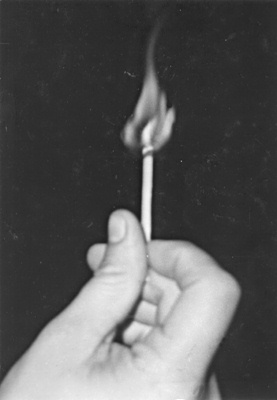 © Stephanie H., Highland Village, TX