The Writer
November 1, 2015
On a cold and dreary night
A writer wrote by candlelight.
A poem dark and cold and deep
Flowed from his pen with every sweep.
His hair as dark and cool as earth,
His soul a sad one since his birth,
For all his life he searched and searched
For a purpose that was highly perched
Upon the highest rank of life.
But he found none of any type.
He spent his childhood growing weary
Turning light-filled eyes all teary.
Without a meaning to fulfill,
He milled about till all else stilled.
The world around became all gray
The darkness making night from day.
No soul could touch him in this place
Of personal solitude and space.
As he shut himself away,
He lost the will to refuse decay.
His skin grew pale, his eyes grew dark
He lost the glow inside his heart.
The glow that keeps all others moving,
Stopped dead in its tracks with all his brooding.
As days passed, his mind fell ill
To devil's tongue and evil fill.
The words of shadows haunted his mind,
Taking over, leaving naught behind.
A paper full of gruesome stories
Of all the beasts he'd dreamt as quarries.
His mind became a frightful place,
Lost in his self-loathing haze.
But one thing quickly became known --
He was lost without a home.
His heart was empty, cold, and dead.
He needed hands to rest his head,
To hold his cheek, to stroke his hair,
To pull him up when he needed air.
He was drown' in pitch like death
And couldn't find a way to rest
His violent struggles against his mind --
The dark that consumed all his lines
That divided all good from wrong,
And kept malice from growing strong.
So as the writer wrote his rhymes,
He started loosing track of time.
His hours became moments and his days turned into seconds --
There was no way the author could hear the others' beckons.
He grew engrossed in his dark work
Of forming tales that make hearts jerk
And heads turn 'way from such harsh things
As fairy tales with dark dealings.
He sat by candlelight all night,
And wrote to soothe his losing fight
Against the darkness in his head
For he knew that it'd leave him dead
If ever it were to grow stronger
Than the love that lasted longer.
Longer than the other tries
This love left him without goodbyes.
On stormy nights he whispers soft
Poetry to me in the loft.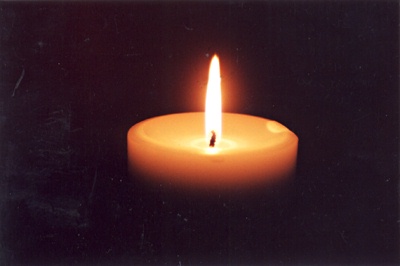 © Ashley D., Philadelphia, PA