Glory, oh Glory, to Squirrels
May 5, 2013
Glory, oh Glory, to squirrels
The animals sent from above.
Yes glory to squirrels, not chipmunks
For squirrels are the ones that I love

They climb in the park and the forest
And visit their little squirrel clans.
Yet I do not know what they're saying,
I bet they discus evil plans.

Plans to take over the whole world,
Yes, with their small feet and small paws
They'll torture each human with their squirrel powers
Endues us to obey with their claws.

Each city will be restless and screaming
They won't stop 'til all nuts are eaten.
Then maybe the squirrels will release us,
But admit it, we'll know we've been beaten.

The squirrels could form a militia,
And turn us each into their slaves
Squirrels will ride upon us reigning
And whip us whenever we misbehave.

Torture units will be created for rebels,
Who knew a squirrel could work an electrical chair?
The monarchy of squirrels will rule harshly,
A rule that'll fill us with despair.

But still I say glory to squirrels,
The most wonderful animals of all,
Who watch us waiting, silent,
Preparing for our race to fall.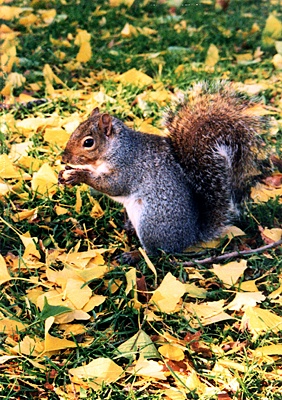 © Kaya H., Burlington, IA