Dragons
November 25, 2012
Killion Kellion
Dunderson Dee
I made the dragons
And set them free.

With skin of a serpent
And mind of a man
A heart full of fire
No man can withstand.

They once ruled the Earth
For year after year
The beasts were majestic
And having no fear.

We once looked upon them
With respect and Praise
But now, in defending
Our buildings they raze.

Our minds were corrupt
And we sought with greed
All that we wanted
But we didn't need.

We sought for the dragons-
Their gold and their jewels
But inside out hearts
We all were just fools.

The dragons we slaughtered
And took what we did
They were no longer seen
In silence, They hid.

They once gave their shelter
And time, after time,
Protected us from
All threats, and all crime.

They were our great guardians
With hearts full with pride
And it is our fault
That they, from us, hide.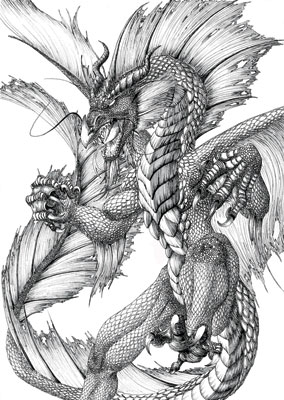 © Lauren R., Belmont, MI