ONE FINE DAY
June 9, 2010
I was sitting in a cafe
Trying to find a way
Trying to take myself away
And on the table a book lay
Titled 'Last May'
And just when i thought that
I had found a way
From behind appeared a guy
Asked me to say goodbye
Asked me to forget everything by and by
Asked me not to lie to myself
Asked me not to set aside myself
And said:Come away with me
A whole new world you'll see
Please say "oui"
I promise thee
That you'll feel free
And just then i decided to take the chance
'Cause there was no harm
In having just a dance
'Cause he had an irresistable charm
After that we went for a walk
He tried to talk
After this successs
I could well assess
That he could make me happy
When my mood was snappy
Next week we went to countryside of Scotland
Hand in hand
My window pane was wet
And his eyes on me were set
The eyes that could hold me
The eyes that could stir me
The eyes that could stand despair
The eyes that looked through me
As if i wasn't there
He made me flush
He made me blush
He made me feel the rush
I begged him:Please stay for a while
You make me smile
Baby,please take your time
Till then i'll be fine
He was so handsome
That my mouth remained mum
He had a glass of rum
While i said "Yum!"
He looked up
And saw a Nescafe cup
I was soaking up the sun
I knew he was the one
To whom i had to run
Not for fun
But to learn
That to him i could turn
When i thought that life was darn
I missed him so
Like the deserts miss the rain
I didn't oh really know
Whether i was sane
I couldn't live my past
Icould do anything to make these emotions last
He meant so much to me
It was a feeling that i
Just couldn't describe
I really needed him
Just like the air i need to breathe
I knew he would stand by me
I knew he wouldn't leave
He sent me a letter
And i started feeling better
It said:I'll be there for
You...i'm sure
I know that you don't mind
Happiness may you always find
I cried and cried and cried
Even my tears dried
But i'll survive
Existing but not living
Happy but unhappy
He had killed me softly
And i was feeling rotty
But to my fears of fears
After three years
He appoached me
It wasn't an illusion ,you see
I responded:I'm not running away from you
I'm walking away slowly
And it kills me to see
that you dont care enough to stop me.
P.S Oui=yes in french pronounced as letter "v"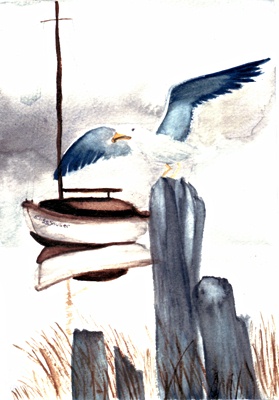 © Elise S., Milford, CT