The Worn Out Glove .
April 15, 2010
What makes me wake
in the dead of night,
crying out a name,
crying out in fright?

I look into the dark,
and wipe away the tears.
I know it's not forever,
Yet still I have the fears.

Afraid for the life
of the man that held me tight.
Afraid for the life
of my father, gone from sight.

He's gone to the battlefield
with women, men, and foes.
Gone from the clutches
of the people that he knows.

He told me to not worry,
that it'll be okay.
Said that he'll be coming back,
I pray that everyday.

I'm just a little girl,
why should this come to me?
I know not how to handle this.
I just need him, I plea.

I recall the time he left.
I provided a gift with love.
It was just a little something,
just a worn-out glove.

He told me he had loved it,
and he loved me so much more.
And I knew that he had meant it,
cause he wore it out the door.

I want my daddy back!
He's gone to war, you know.
I miss him more than ever.
How time moves on so slow.

A year and one half later,
we stand among the door,
waiting for the man we seek.
It's all we ask, no more.

I watch the men come through,
in hand with the ones they love,
I search on all the hands of them,
but still no worn-out glove.

Soon all the men are gone
and we are left there still.
The sound of our harsh silence
rose up like a burly chill.

Is the man I love now gone?
The one I long to see ?
He told me he'd be coming back.
Oh God, not now ! I plea !

At once our hopes are lost.
They turn away in sorrow.
My wish for him had been turned down
now its strength I need to borrow.

But then one second later,
a hand waves like a dove.
I look to find just one last man
who wears a worn-out glove.

My soul cries out in mirth,
as I face the man with love.
My daddy has come back to me,
and he wears that worn-out glove.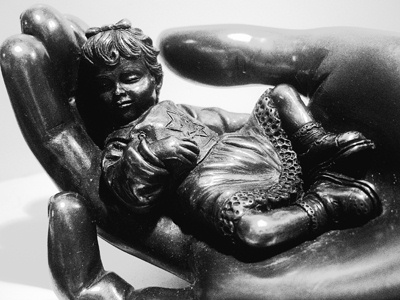 © Dat L., Worcester, MA