The Security Guard
February 15, 2010
"You can't drink here, pal,"
that bartender said.
It must be this baggy shirt,
pants, shoes, and shaved head.

Little did he know,
we'd have our own fun outside,
have a couple of beers
in the back of my ride.

Some security guard, though,
must have thought we were bad.
He tried asking us
to head home to our pad.

But my group didn't follow-
wouldn't listen at all.
And today I realize,
that's where it started to fall.

I reached back and grabbed
the gun closest to me.
I fired, and blood
was all I could see.

A wave of shock hit me,
as the bullet hit him.
And I knew the chances of me getting away
were probably nothing to slim.

I stood from afar
and watched people rush to his side.
I should've gone for help,
but instead he just died.

I think everyday about
what i could have done,
Instead of just caring
about having more fun.

I'm sure he had family,
I'm sure he had friends,
And yet, I was the one
To bring his life to an end.

"I want my papa!"
His little girl said,
As her mommy can all
but only kiss her dear head.

And now his wife lies
Next to an empty spot on their bed,
While I lay, uncaught,
And still seeing red.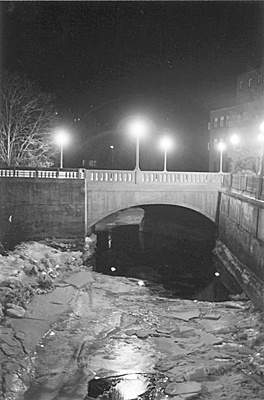 © Peter G., Glenburn, ME