Frozen Pizza
August 23, 2021
Turning the Jack's frozen pizza on broil
Fire fire fire
Warning fire
Smoke pours from the oven door and hits Daddy in the face
Pizza wheel clangs alarmingly as cardboard circles scrape
Scorched edges of pepperoni and tender orphan sausages.
Torch torch torch
He screams
Unable to believe the house isn't afire
I run screaming into the room
Mommy stands on a chair to silence the alarm
The veiled voice of the tall terrible fire woman
Retreats into her plain white box, where she contemplates danger
One click and she is silent.
My brother David brings us dinner plates
We thank the blessed Lord for his food
Frozen pizza is the only thing I will eat
Besides cream-cheese bagels, cookies, and peanut-butter sandwiches.
When I look over my glasses at my parents and brothers
I cannot believe our family will ever end
Can't imagine us all having supper apart some sad day
When now is now and now
And we are a huddle of glasses Asbergers' people
A five-headed family at a table
Eating frozen pizza
Under the glow of smoke flowers.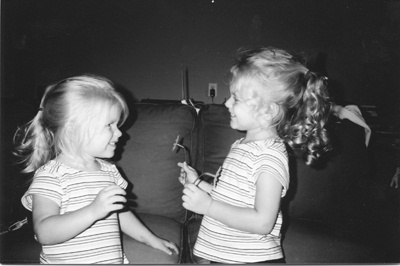 © Elizabeth S., Pompton Plains, NJ