Clouds
July 16, 2021
The asking clouds
are singing with aspen and mercy
and begging for stars on rainy nights,
when the snow looks as hard as tin cans
and beggars steal tomato soup.
The jar of life
echoes to the rhythm of missing those we love.
Joggers move their sinewy bodies
to the middle of the road
to avoid tripping over stoners in the way,
who listen to dupstep over their stolen earphones.
The stoners and the joggers are like magnets,
pulling away from each other.
When rain falls on the homeless
in the alleys and gutters of time,
as they look for coins
before returning to their broken cars of homes,
when rain turns to indistinct sleet,
and when angels huddle by their fireplaces—
love's hard.
When the rain falls on the askers and wonderers and seekers,
sometimes the rainbow in the watery sky
isn't enough.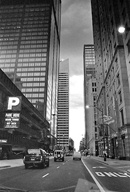 © Alexandra K., Chicago, IL