The Morning Mist
December 4, 2018
Dragons of Water
And Dragons of Fire
Brought forth to the world a new power.
The Dragons of Wind,
And of Air,
And of Nature,
And of Earth,
And of Sun,
And of Moon,
And of Need,
And of Greed,
And of Light,
And of Night,
And of Magic,
And Of Science
All went to see,
What this new baby would be.
All except for one tribe.
The dragons of Power,
Didn't want to see this special new flower,
For fear of what it might mean.
This new dragon might demean,
From all that made the Power dragons,
Power dragons.
And when this child was born,
She was swathed in a hot white substance.
When the egg exploded it blasted,
All the dragons back,
Except one.
He was a dragon of power.
He was of ancient blood.
He too,
Was swathed in white gas.
He took the child.
He named it,
Michei.
His name means,
Unknown.
A perfect name for this child.
This child was incredibly powerful.
It's aura alone,
Was strong enough,
To blast back armies,
And blind foes.
This child alone,
Had enough power,
To destroy continents,
And reshape the world.
So this Ancient One labored,
And labored.
He labored to control this child.
To teach this child.
In desperation,
He spelled this child.
He cursed this child to have no knowledge of his former self.
He cursed the child to not even know or hear of magic's existence.
He cursed the child to not be able to, or even think about,
Leaving the forest,
Until he was of twenty.
So this child never new of his existence,
Or purpose,
For nine-teen years.
This made him bitter.
He surrounded the planet in white, hazy fog.
And every day,
And every night,
The child neither ate,
Nor slept.
Finally the Ancient One,
Arose Michei from his trance.
He occupies Michei during the day.
At night and in the morning,
Michei recreates his haze.
This where morning mist comes from.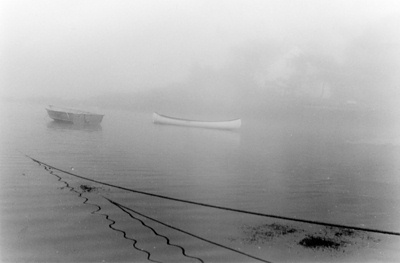 © Steve S., Marblehead, MA