The Project
November 9, 2017
Straitjacket, mouth foaming
I'm dying, heart slowing
A minute passed
Broken glass
It stops, I lay silent
Comforting quiet
Sick of the torture
Lost composure
Like a little kid breaking one of his favorite toys
Neck jolts; beautiful snapping noise
I awoke under the light of the moon
I just wanted to lay there; I couldn't continue
I lay on my back, exhausted
Was I dead? Preposterous!
Gathering every ounce of willpower within me
I rolled slowly over, body resisting
A deck of playing cards lay by my head
Stained bloodred
I sit up slowly
Grab the deck, cards unholy
These cards were cursed
They were hers
I flip the top one over
Lucky Joker
A broken heart
Was the picture on this card
Joker, because I was played like a fool
I did not shuffle the cards. I was already miserable
If I had, things would be different
I didn't know. Blissful ignorance
I could not speak, lips drawn tight
That's when I noticed she came out of the night
A big, broad smile on her face
Ready to cause me more heartache.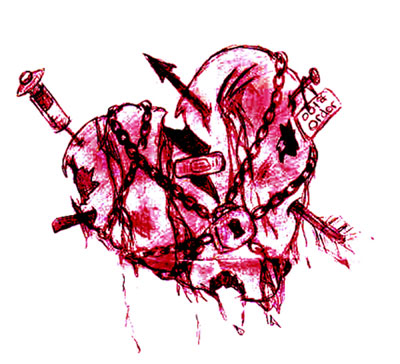 © Asia B., Hudson, MA