The Martyr
September 8, 2017
Deep and dark
I'm falling apart
Submerged in an ocean of my own tears
Left to my hate, pain, sorrow, and fears
The tears on my cheeks are salty
Deeper still, I'm falling
Falling into a downward spiral
Screaming and crying all the while
Enveloped by anxiety
Slowly realizing
I can't change the past
Falling, ever so fast
Help. It won't stop
Eternal drop
This is my torture, it is my pain
Relived over and over again
You don't understand, and you probably never will
You don't know what the f*** i feel
I'm falling straight down
How much longer until I drown?
A light below me
Blinding, I can't see
Slows my descent
Endless torment
"You can't save me, light of gold.
My heart is black. My body is cold.
So go back, wherever you came.
I deserve this. I am to blame"
Yet the light pushes harder
It tries to save the martyr
The one who died for his beliefs
The one who knows no relief
Only when he smokes that keef
Does he simmer down from his peak
From the beginning of time this martyr didn't care
Although deep inside he really was scared
He didn't want to die, didn't want to suffer
"Why me? Why not another?"
He screamed as the light failed
And the martyr, in pain and agony, went straight to hell.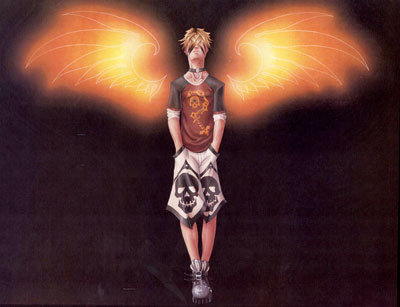 © Raul R., Monte Vista, CO