There she is.
May 16, 2017
There she is
The sinner
While everyone is on their knees praying
She giggles and calls them stupid, claiming she knows who God is and He is not church
Still they try to save her, drown her in holy water, the more impure she becomes
Call the pastor, let him work his magic and remove all the demons that possess this child. This is the work of Satan. No God can demolish a soul so easily and let a child stray off path.
Quick! call the priest his hands have the strength of a thousand horses, his hands have the ability to heal as much as God has the ability to part waters for his people. He knows the magic of 3 Witches combined, but he himself is not the witch. (we don't call them witches if they get paid to do it)
This girl is shaming our people, claiming she knows the truth and that God doesn't live here or anywhere that we are. She deserves to be torched or perhaps even doomed. Oh I know maybe we should let her drink diesel set her soul on fire and watch it burn out.
Who is she? This girl! Making a fool out of her elders saying we are the ones who need to wake up, we've been awake since morning to put food in her belly and to give the rich more riches. How dare she belittle the ones that birthed her and taught her how to speak now she speaks against us, saying we don't know who God is. Wash her mouth with soap and hang it out to dry so she becomes clean again, though they can't remember a time she has ever been.
She says, by the time we realise it, God will have called on those that are his and our names will not be on that list.
Quick call the coroner, her soul has left her body, levitating to the man above the sky she claims is God.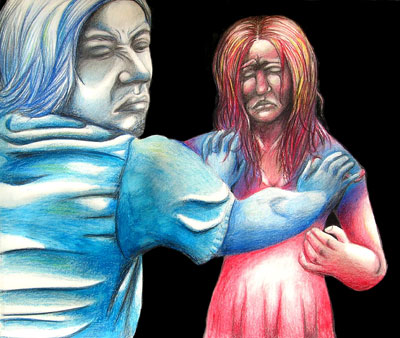 © Jessica P., Bethel Park, PA