Commorient; A Sestina
December 25, 2015
You fall asleep before the sun.
Your hair is stuck to your cheeks in the morning,
wet with tears or dreams.
Shadows have no respect for the dead.
August peaches are marbled with sunrise.
Their flesh is sweetest in the summer.
Your bones are warmer than the summer.
You once swallowed the sun.
Ever since, you've been bleeding out sunrise.
Your eyes are full of morning.
Where is the line between asleep and dead?
One day you will remember your dreams.
You don't know the difference between days and dreams.
Everything blurs in the summer.
Dad calls and says grandma is dead.
You wonder if her body flew into the sun.
You stay awake until morning
and swear you see her smile in the sunrise.
It's been three days since you saw the sunrise,
a carousel continuum of dreams.
You no longer recognize the morning.
Maybe you'll sleep all summer.
You were never friends with the sun,
she wouldn't notice if you were dead.
You are not dead.
Your hands are softer than the sunrise
and your hair is lighter than the sun.
You used to assign colors to dreams
but everything is yellow in the summer.
You never cry in the morning.
You choke on the sweetness of morning
and think you might be dead.
You are accustomed to the bitter of summer.
The slow Sunday sunrise
smells like dreams.
You will never learn to love the sun.
One morning the earth will be swallowed by the sun.
Everything will be dead, even our dreams.
This is a summer of bleeding sunrise.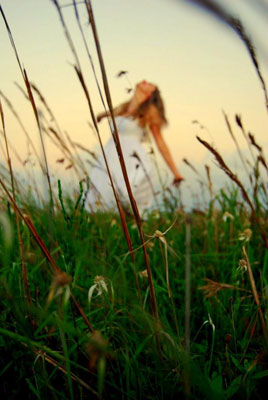 © Richard F., League City, TX