Faceless
May 25, 2015
I don't know what I want, I thought to myself, leaning my head back and splashing my feet in the water. I played back what Ryder had said to comfort me the day before. " I mean, we're all addicted to something, right?" Sitting straight up, I wondered, what am I addicted to? Music? Time alone? Peace? The answer flashed so quickly and violently in my mind I almost fell in. Like it or not, Renee, you're addicted to love. And you don't care. I steadied myself with slow breaths and lifted my feet out of the pool. Love? Suddenly, things started to make sense. The constant distractions, I distanced myself from others so I wouldn't ruin anything. I pondered over what it would be like to be loved in that way, and led myself down a dangerous path. Words, memories, images, secrets, nagging guilt dulled by relief, shameful longing sated by fulfilling desire. Not once was my body touched. And yet, I wasn't pure. I was stained. Darkened. Burdened. Ashamed. And most of all, lonely. After all that distancing, I drew back. Into the darkness. Into myself. Into comfort, into an escape. But, escape from what? My life was... Okay, not amazing, but better than average. Then I realized: I was escaping from exactly what I thought I was addicted to: love. I was escaping from help, from attention, not accepting those who already loved me. Because, as afraid as I was to confront it, a part of me liked it this way. Secluded. Lost to my own thoughts. Alone. The rest of me hated it. But, God made me a coward. I flee, I don't fight. So every time that nagging guilt comes up, I feed the fire by doing what I've done since I was six. I escape into my world. Where everybody likes me, or those who don't are promptly defeated. I'm strong, brave, and I'm loved. I never see his face, but he loves me. He does whatever I want, because he is in my mind. This world is my mind. And as much as I hate it, I'm a permanent resident in my own torture chamber... Called lust.

Thank you, faceless lover. For making me "loved."
Curse you, faceless captor. For letting me hate myself.
Help me, faceless savior. I need to run away.
Leave me, faceless stranger. My God comes back. And I  cannot bear for him to see me unclean, impure, even thought he knows all. He did, after all, make me a coward. A lustful, bitter, burdened, hardened, pierced, aching, crying, hiding coward...
Who feels safe and clean in her Heavenly Father's arms.

Bless you, faceless guide, who broke me until I crawled back to the Lord... To be gathered into pieces.

Begone, faceless evil, liege of the enemy to my Lord, my father, and now, me...purified daughter of the Lord Jesus Christ.
You are not needed. You are not wanted, because
I. AM. LOVED!! I shouted to the sky triumphantly. As I walked away, confident, a man up in the clouds glared at me. He could not touch me. He could not reach purity. He could not approach love. His face was void of emotion, just as always. I was not surprised.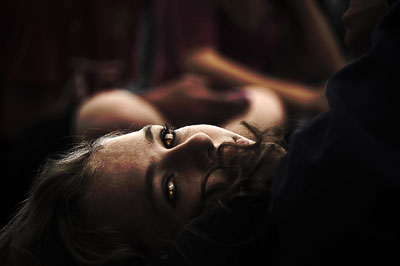 © Calvin C., Salt Lake City, UT