Dangerous Girls
August 9, 2014
Don't worry when your son comes into this world
and you have a pink bassinet waiting for him.
The doctor thought his penis was a finger in the ultrasound.
He won't cry because his walls have pony decals instead of motorcycles.
He'll cry because he pooped in his My Little Pony diaper.

In kindergarten, Sally from the house down the street will chase him
all over the blacktop and jungle gym.
She's going to hold his graham crackers hostage during snack time
until he gives her a kiss on her grubby little cheek.
Tell your son to get up and walk away,
because he is never to hit…a person.

When your son comes home in seventh grade
and locks himself in your bedroom,
storm up there when you hear Lady Gaga blasting on his iPhone,
grab the nearest hairbrush – sing along.
Even if you prefer The Supremes.

The day Sally drives up to your porch on her hot pink Vespa,
her Proud Feminist button pinned to your son's rented tuxedo – give her a chance.
After he comes home crying with red lipstick and bruises on his collarbones,
do not tell him to be a man. .
You'll find Sally's button in the trash. You will wish she had accompanied it.
The next day, he will buy a football.

3 years later...

Cleaning out his closet, be careful not to prick yourself -
the Proud Feminist button is hidden in the back behind his football trophies.
Dangerous women leave marks.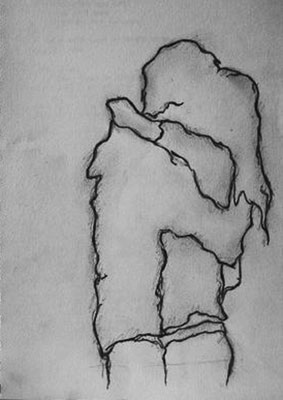 © Nicole B., Newcastle, WA