Shelby
May 22, 2013
I will always see her in the sunshine.
Hot, bright, glowing rays melting her chocolate eyes, the sugary sweetness dripping into her smile, and I think I'd like to taste it,
So I kiss the side of her mouth.

I will always see her, with her knock-off Converse hitting the asphalt, and her anti-mainstream music pouring out of the speakers on her messenger bag,
Making puddles that I feel like jumping into and splashing up to my knees.

I will always see her walking down a coastal footpath, her fragile back facing me, in cut-off jeans and a hoodie.
Sea-green grass and sky-blue sea and her skin as pale as the foam in the wind and the clouds on the waves.

I will always see her with a guitar strap over her shoulder singing Michael Buble, and me desperately trying to keep up with her perfection.
But my guitar is sitting in the corner of my room with two broken strings.

I will always see her pointing to her cheek after I asked her how much she wanted for her free-hand canvas painting of a peacock feather,
and when I kissed the side of her face she took it down from her shelf and handed it to me.

I will always see her as seven years old, innocent and wistful, and so bright,
Neon and stripes and all the colors of the rainbow,
A personification of light.

And I will always see her as a young lady,
Grown up before my eyes,
The little sister I've always wanted,
But when did she become everything I've ever wanted to be?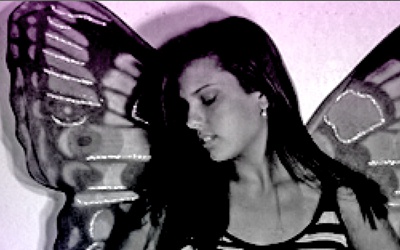 © Kathleen M., Rowlett, TX