Listener of the Trees
March 14, 2013
The townsfolk had found him one summer's eve
wet and bedraggled as any could be.
Malnourished but alive they took pity on him,
just a small boy with no sign of kin.
He had brown floppy hair that fell to his shoulders,
and round knobby knees that looked like small boulders.
The only person to love him enough was Nana,
an old woman who was somewhat gruff.
And upon not receiving much company from people,
he then started conversing with ivy on the steeple.
Being misunderstood he soon moved to forest,
but in chorus the other young chaps would point and tease, yelling,
"Look there goes the boy who talks to trees!"
At the end of their ropes the townspeople had said,
"I don't quite think that he's right in the head."
Time passed, and one day Peter was out with the trees.
News soon came whispered from them like a mid summer's breeze.
"The dam, the dam, the dam, has broke,
leave now or you will soon and surely choke.
The water is high right up to the sky,
get out of here now or you will soon die!"
They swayed and frowned not wanting Peter drowned.
Little Peter would not budge
causing the trees to shove and nudge.
Peter then thought,
"I can't just stand here I must try and save my old Nana dear."
Knowing what must be done Peter approached the river
barely suppressing a shiver.
Seeing now what Peter was doing,
they tried to stop him with much sweet talk and coo-cooing.
Paying no heed Peter did teter and he entered the current,
a wild and crazy, old howling turrent.
Now up to his neck bone, he cried out in a harsh tone,
"Trees, trees, come save me please."
They came up roots and all,
rushing to his side answering his call.
Into the river they all came, clogging the oncoming water and rain.
Too late were they for peter lay slain
although not in vain.
The town people were saved from the gift that he gave.
But the trees wept and cried because Peter had died.
So the trees in his honor bent their branches and slept,
still are they there to this very day,
by the rivers edge out of its way.
They all agreed to endeavor and suffer together,
weeping, and weeping, and weeping,
forever.
The Townspeople had found them on that summer's eve,
wet and bedraggled and any tree could be.
Wetness slid from their bowed branches falling down like tears.
Because they were bent, and full of discontent
the people named them weeping willows.
Much weeping did they do, their branches forever sweeping,
the muddy ground, looking for where poor little peter had drowned.
A symbol of sacrifice the weeping willows laid,
forever reminding us of the lives that were saved,
and the scar that was made.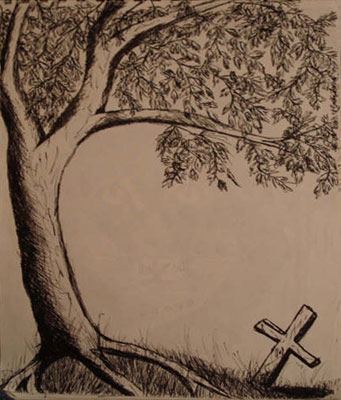 © Courtney K., Bethel Park, PA