Paths
November 30, 2012
My mother lead me to the door,
she whispered in my ear.
"the road less taken, that's your course,
and I will help you steer.
Failures take the other paths,
one way to go.
Fight the fish, Fight the fish,
fight the flow, fight the flow."
She opened the door and walked away,
the light, it burned my eyes.
I finally managed to peer out,
and heard fates beckoning cries.
All around me, from eye to horizon,
paths converged, jumped, looped,
as millions of people crawled upon them,
on their knees, weighted, stooped.

Not one trail looked cleaner,
less bruised, less bloody.
Not one person looked happier,
less worn, less muddy.
Paths worn away through quagmires,
across barren sands,
the footsteps of our predecessors,
worn into ancient lands.
I took a step in one direction,
then quickly backtracked,
each path seemed equally grim,
equally packed.
with all the footsteps ever tread,
by the living and the dead,
how can there be a road less traveled by,
when all we do is walk before we die?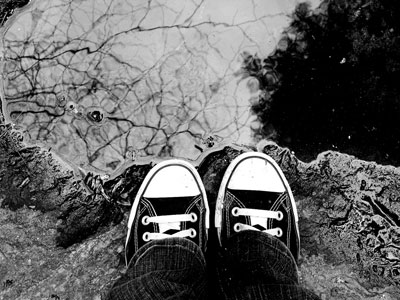 © Michelle B., Blairsville, GA