Did you ever really love me?
April 14, 2012
It's not your fault. It really isn't.

How can it be your fault?
That you don't love me.
I can't really blame you.
Because the only person you love is yourself.
I knew that right from the start.
I just tricked myself into thinking otherwise.
You told me yourself that you were like this.
And I should've listened.
Instead I said to myself: "I'll make you love me."
What an idiot.
I wasn't like this before you know.
I was a smart girl.
But I guess I changed that when I met you.
The only person to blame here is… me.
To change my life and self for a guy,
A guy who didn't even love me.
I guess it's true what they say:
The one who falls in love first is always the loser.

I met you at the boardwalk.
And I thought it was love at first sight.
You were walking by yourself.
I thought you looked like a beautiful, brooding artist.
I guess our minds like to trick us.
Mine sure does.
Cause I kept tricking myself into thinking you actually gave a da**.
About me, about anything.
Turns out that you don't.
But I don't blame you.
I really can't blame you.
You always told the truth.
Even when I kept telling lies.
Saying I knew you were better than who you were.
Saying that you were another person when you were around me.
Turns out you weren't.
So when all is said and done,
When my friends say to me that you're a terrible person,
That you didn't deserve me;
I'll know that they were wrong.
You were always telling the truth.
You were never afraid to tell it to me.
So my friends don't give you enough credit.
They only give me credit I don't deserve.
It's really sweet, when you think about it.
That they would have so much faith in me.

But the question is: Does the person who tells the truth deserve the credit, or does the person who tries not to hurt anyone but herself deserve it?
I guess that's one question I'll never get an answer to.
But the one question that I'll be able to answer is this: Did you ever really love me?
And the answer will always be no.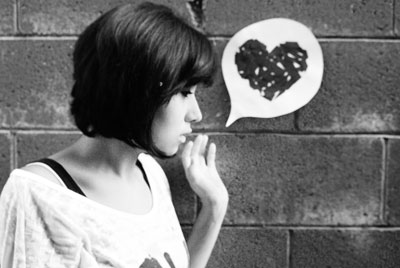 © Michelle B., West Covina, CA