Speechless Colors
August 3, 2010
Billy and Tommy were playing by the sea,
When both spotted seashells, one blue and one green.
Tommy took the green and Billy took the blue,
But, "Mine is better" said both of the two.

The boys sat and talked of their shiny new shells,
Both the same size and shape as well.
But despite the similarities between the two,
One still said green, and one still said blue.

The boys began to fight over the items they'd found,
But as they stood to fight the shells fell to the ground.
Yet neither did notice for all that they knew,
Was one shell was green, and one shell was blue.

In the midst of the squabble Tommy knocked Billy down,
"Leave!" Billy cried as he pointed towards town.
Tommy screamed "NO! You dont own the sand!"
So Billy grabbed a stick and divided the land.

And from that day on the boys never played,
They only fought and divided they stayed.
Neither knew, nor cared where these fights led to,
Because one still said green, and one still said blue.

Until one day Billy got a new silver toy,
And decided to show the other boy.
He showed him with a bang to prove blue was best,
But neither blue nor green spilled from Tommy's chest.

Friends to enemies, playmates to war,
Seashells to guns, yet what was it for?
Because though both the boys thought colors they heard,
Blue and green never spoke a word.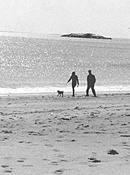 © Megan S., Marblehead, MA